Catherine Elizabeth Middleton was born on January 9, 1982 at the Royal Berkshire Hospital, Reading, to Michael and Carole Middleton. She lived her first few years in the UK, then moving to Amman, Jordan, with her parents, her younger sister, Phillipa Charlotte Middleton, and her brother (who was born shortly after they returned to the UK), James William Middleton. Kate comes from a working class family.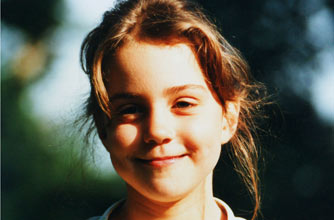 A young Kate in Berkshire
She attended primary school in Pangbourne, Berkshire, going to a private school, St. Andrews. There, she, her sister, affectionately known as Pippa, and brother were known for the meticulous detail their mother, Carole, put into their well-being. Kate and sister Pippa were always very popular. In 1987, when Kate was 5, her mother started a party-planning company. It became quickly popular, and catapulted the Middletons into a multimillionaire life.
Kate at a field hockey game, one of the many sports she played as a youngster.
After primary school, Kate attended an elite, private, all-girls school, Downe House for one year, but left due to extensive bullying. She then switched over to a co-ed boarding school, Marlborough College, and stayed there for the rest of her secondary schooling. She was very popular there and had a great time.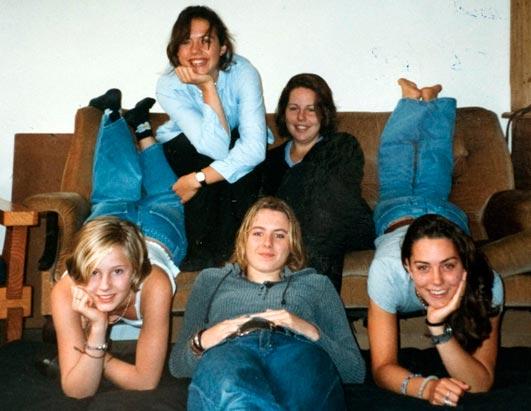 Kate, posing with friends, is on the far right
As secondary school came to a close, Kate did as many British teens do, and went on a gap year. She first studied Italian and art history (which she later went on to major in at university) in Florence, Italy, and is said to have loved the culture. She studied at the British Institute. She was at Italian classes three hours a day, five days a week. She was learning mainly at the Palazzo dello Strozzino. She and five other girls were splitting rent that was 500 pounds a month for rent. She stayed there until December.
Kate in Florence
For the second half of her gap year, she went to Chile, through Raleigh International Programme, where William had interned just a few short months earlier. She worked hard all day, cleaning and helping at orphanages.
Kate manning ship while in Chile
After her time in Chile, and after a relaxing summer, she graduated to St. Andrews University, where William went as well. She was the first in her family to attend college, and Carole and Michael encouraged higher education. She was placed in (the dorm) St. Salvator's Hall, where the Prince was placed, as well. The first time they met Kate 'scuttled off, feeling very shy' as she put it. Both being Art History majors, they shared some classes, and eventually got to know each other as good friends. It is widely agreed that William became romantically interested in Kate when she participated in a fashion show, wearing a revealing dress.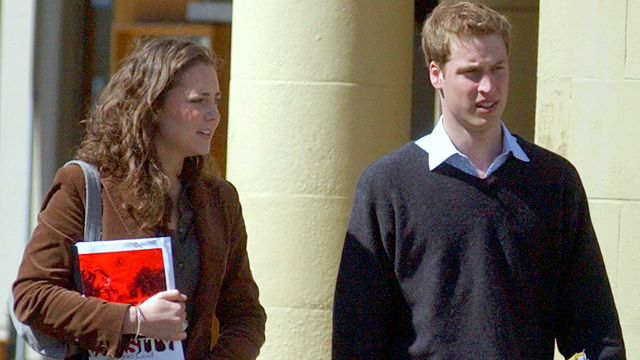 With William at University
They were dating seriously by the time they graduated:
Graduation day with William
After graduation, Kate went to London, and shared a flat with sister Pippa. William was away at military academy, so it was hard for Kate, who had no security detail or the protection of the University anymore. She had to eloquently deal with the press and find a respectable job quickly. In November 2006 she landed a job as an assistant accessories buyer for Jigsaw, where she worked briefly before joining on with her parent's business, Party Pieces.
While dating William
She and William broke up briefly in 2007, but got back together before long. William proposed to Kate in late October. On November 16, 2010, the couple announced their engagement!
Announcing their engagement
There was much lead up to the wedding and tension was running high (if you care to know more about it, I have a whole post about the engagement period
here)
. They got married on April 29, 2011, in Westminster Abbey. She wore Alexander McQueen for both her wedding dress and after party dress, as well.
On their wedding day
After-party with Camilla
She was styled Catherine, Her Royal Highness the Duchess of Cambridge. Since their wedding, she has brought awareness to many important causes, such as childhood cancer and eating disorders; but more importantly, she gave birth to Prince George Alexander Louis of Cambridge!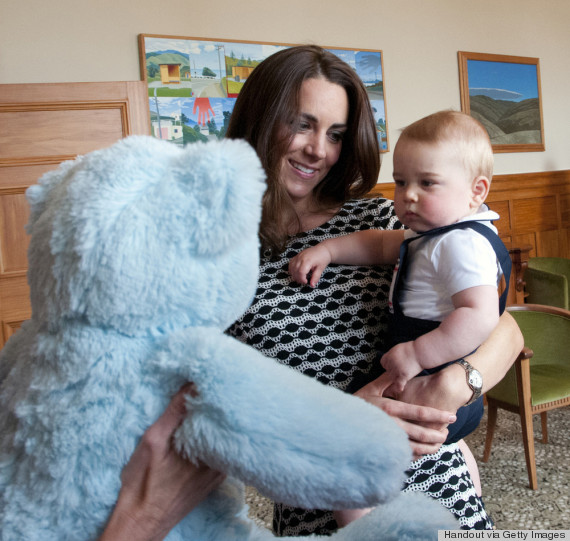 With Prince George in New Zealand
William and Catherine announced on September 8, 2014, that they were expecting their second child. She had an expectedly lovely (style-wise) pregnancy and on May 2, 2015, she gave birth to Princess Charlotte Elizabeth Diana of Cambridge.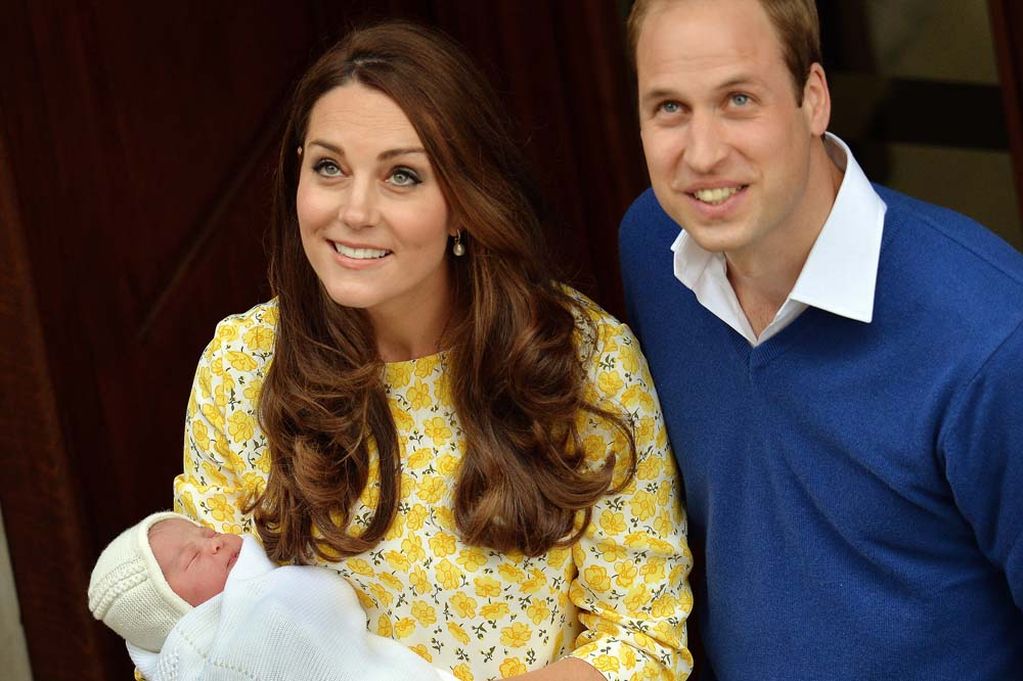 Outside the hospital with Princess Charlotte
Her christening, on July 5, 2015 was a lovely event full of joy and pomp.
Catherine and William's combined coat of arms:
The right is Kate's; the left is William's
Her monogram:
Let us continue to enjoy the Kate saga!