Thirty-three years ago today, a king was born. Or, to be more accurate, a future king. He weighed in at 7 lbs., 1 oz. On June 28 his full name,
William Arthur Philip Louis
, was announced. At the time of his birth, only a few photographers were outside Lindo Wing to witness the iconic moment with William and his parents (quite unlike today, with the hundreds witnessing William and Kate with their children!)
Mirror
On August 4, William was baptized in the Music Room of Buckingham Palace. He soon garnered the names "Wombat" and "Wills", his parent's nicknames for him.
August 4
As he grew up, his mother, Princess Diana, insisted that the royal brothers (William and Harry) lead some semblance of a normal childhood. She took them to McDonalds and Disney World, as well as exposing them to life outside of the palace, taking them to homeless shelters and hospitals.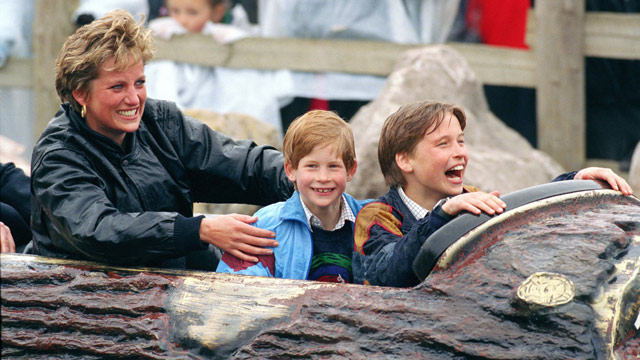 ABC News
His Eton years were tumultuous. Not only was Eton an unconventional choice (royal boys usually attended
Gordonstoun
, but both Charles and Diana agreed Eton was a better place. Just two years into his time at the Senior school, Princess Diana died tragically in a car accident. This was an incredibly hard time for both William and Harry and as was seen with his choice of engagement rings, her memory lives on. Below, a group picture at Eton. William is in the top right corner.
London Media
William chose to go to St. Andrews University for his university education. He chose well, as he met his future wife, Catherine Middleton, during his time there. He nearly dropped out during his first year, but, as always, Kate had his back and encouraged him to finish and follow his passions by changing his major. Their romance blossomed during their years at university and it is said these were some of William's happiest years.
Middleton Family
After university, William decided to pursue a military career. He completed the extremely difficult Royal Military Academy Sandhurst course, and then became Lieutenant Wales at the Blues and Royal (nicknamed Booze and Royals for their heavy partying history). William and Kate famously broke up and then got back together during his long times away in 2007. In 2009 he
joined the Royal Air Force (RAF) to become an Air Ambulance pilot. He stayed with this job until 2013. His time with the military left him three permanent titles: Lieutenant (Royal Navy), Captain (Blues and Royals), and Flight Lieutenant (RAF).
EPA
William's humanitarian efforts are very well developed. In 2009 he and brother Harry founded the Princes' Foundation, an umbrella foundation to help them support things close to their heart. After William's marriage to Catherine, the name was changed to the Royal Foundation of the Duke and Duchess of Cambridge and Prince Harry. He is a patron of a number of charities; you can view them in their entirety
here.
In China
In his private life, he and Kate were going strong. He decided that it was time to propose to her, and in October 2011, while on holiday in Kenya, he popped the question. In mid-November their engagement was announced and the world went wild. William continued with his RAF job up until a week before the wedding.
Engaged
Their wedding day was picture perfect! He went with his Irish Guards uniform for the occasion.
At the entrance of Westminster Abbey
William's life after the wedding was remarkably unchanged. He got to go on engagements with his wife instead of all alone, but their quiet life in small Angelsey, Wales remained the same. The two major events in his life since his wedding have, of course, been the births of his two children, Prince George of Cambridge and Princess Charlotte of Cambridge.
Philip Ide
Upon his marriage, William was conferred with three new titles, in addition to Prince William of Wales: Duke of Cambridge, Earl of Strathearn, and Baron of Carrickfergus. He has a Coat of Arms and a Royal Standard that flies on special occasions.
Prince William's Coat of Arms
William, you are such a lovely man who has done so much in your life, and it is obvious that you care for your family with all your might. Happy Birthday and many more to you!