Four years ago, our eyes were glued to the TV screen, watching the "Wedding of the Century." Happy Anniversary, William and Kate! We have loved seeing your love story unfold :)
The couple famously met at their alma mater, St. Andrews. William and Kate were both involved with other people at the time of their meeting, so remained friends for what is speculated to be one year before a romance blossomed. They moved into a flat with other friends, and before they graduated moved into their own cottage a few miles out of town.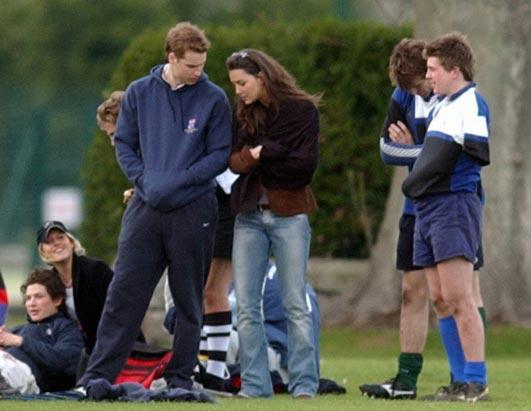 ABC
The following years were their hardest, including a painfully public breakup. The paparazzi pulled a Diana on Kate, and positively swarmed her (nothing could be done because she wasn't engaged to William yet.) William was absent most of the time, as well, because he was at the military academy Sandhurst. It was during this time that they broke up, and both parties took advantage of their freedom. Kate strutted her stuff and surely enough, she and William were back together a few months later.
Kate during one of her more famous breakup outings
They dated for the next couple years until William proposed to the then titled "Waity-Katey". They were on a trip to Kenya with friends when he whisked her off for a couple days to a private retreat, where he proposed. Kate said:
"There's a true romantic in there."
Aww! The whole world was beyond excited at their engagement, and rushed to buy memorabilia and congratulate them. (If you want to read more about their engagement period, click
here.)
At the Engagement Announcement
Their wedding day was a day to behold. She looked beautiful, he handsome, and everyone was in high sprits.
BBC
And the rest, as they say, is history! Kensington Palace said William and Kate were celebrating this year's anniversary "privately." I will update as soon as we get any whiff of Kate news! Until then :)