Guten Tag!
As you may well know, this is a season of sorrow for Kate watchers. Yes, she is on holiday with William and her little one, which is very good for the family (they need a little bit of rest!), but it means no Kate news for all us fans. Therefore, this is a special post(s) about Kate and her life since her engagement to Prince William. It will be organized by going over her engagement period and her wedding, then moving on to my 5 favorite engagements of the years. I will be doing a series, so this one will cover engagement period/wedding. Look out for the others!
On November 16, 2010, Catherine Elizabeth Middleton and Prince William announced their engagement:
"The Prince of Wales is delighted to announce the engagement of Prince William to Miss Catherine Middleton."
In a break from tradition, the engagement was announced via email to the press before being announced at the press conference.
Hello! Magazine
myluciouslife.com
Youtube
Kate was wearing the now famous Issa wrap dress, in royal blue (I think Kate looks much better in this than the model!).
E! Online
Of course, her engagement ring was what was also Princess Diana's engagement ring. William said it was "my way of keeping my mother a part of everything."
About Sapphire Jewelry
She wore a Tiffany necklace:
Diana's Jewels
The day was very exciting for everyone! The official engagement photos were released as well: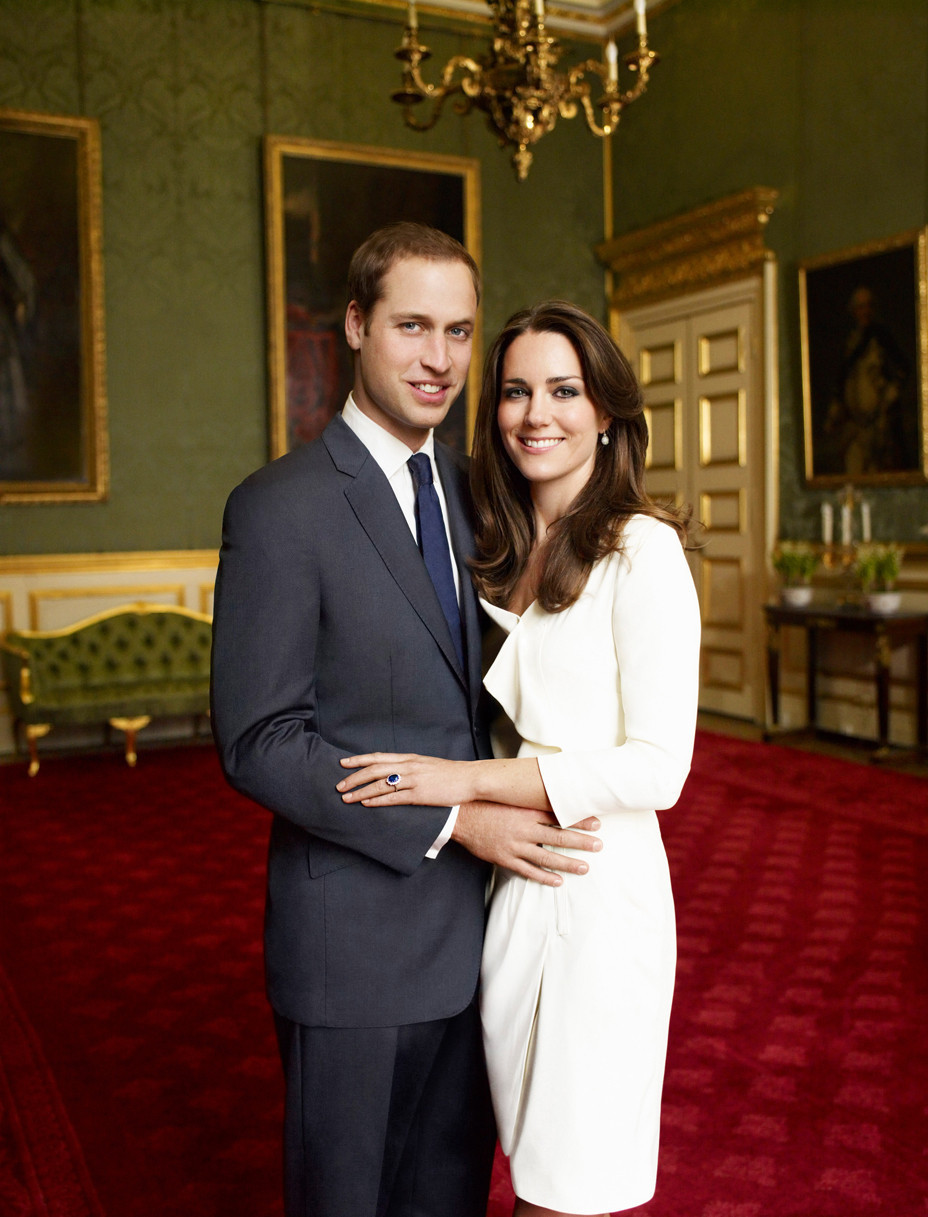 Huffington Post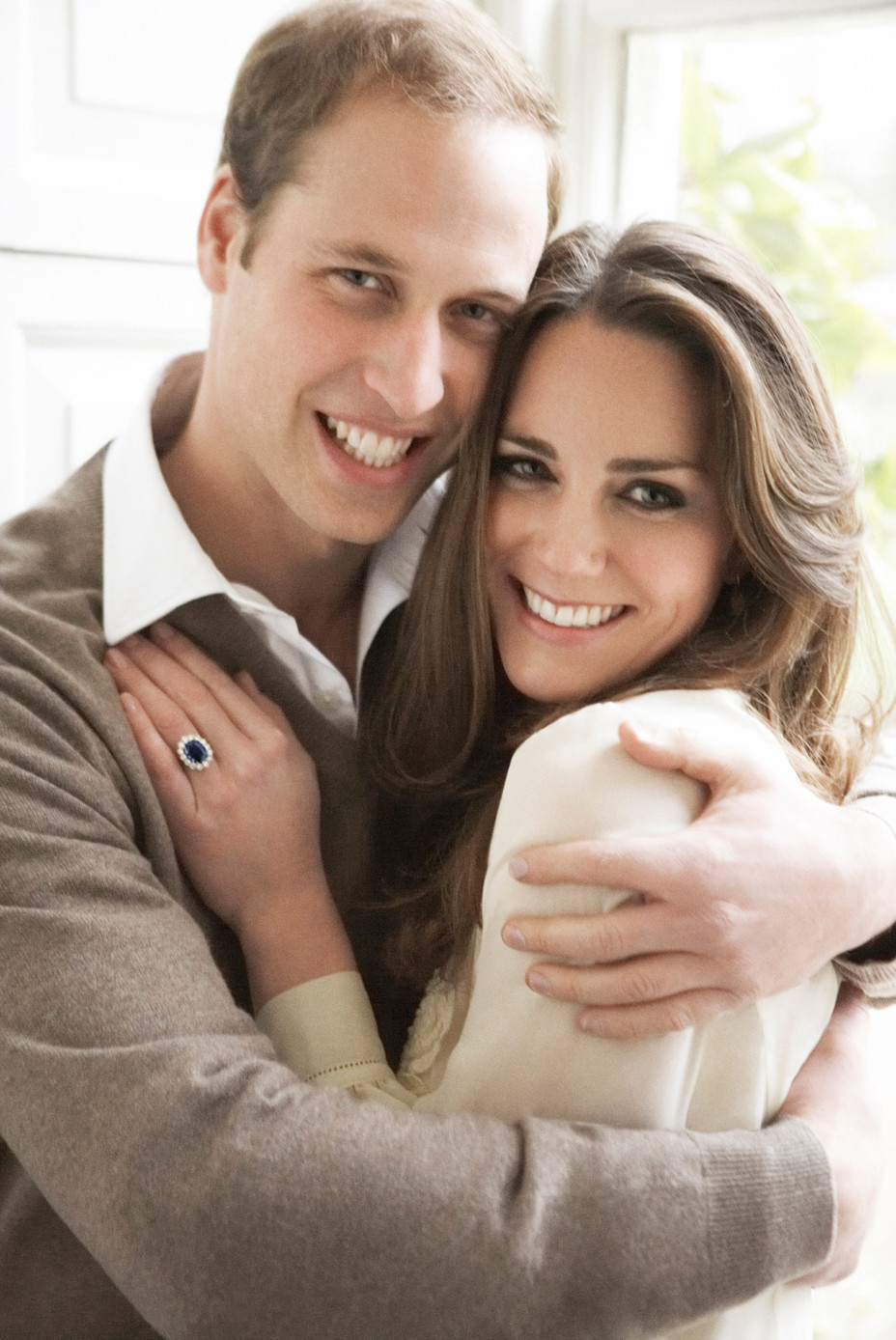 Huffington Post
I personally like the second one better, as it gives me more of an insight to their fun side. This was the first time the public had gotten any really good pictures of Kate, not ones that were taken by the paparazzi.
Kate went on four engagements with William prior to their wedding, as a mini Royal tour.
First she went to St. Andrews University, where she and William both graduated. She was wearing a Luisa Spagonoli suit, which looked very elegant on her:
JustJared
They both looked very excited to be back at where the first met!
Next they christened a ship in the small island town of Angelsey, Wales. The couple lived there until just a few years ago, where William's RAF base was.
herdaily.com
Telegraph
This was Kate's first 'real' engagement, one of many to come. I loved her look here, very Kate but still tying in elements of her younger style into her more mature one that she has now developed (I would especially like to note her fascinator, which was much more inventive than the ones she chooses now. It reminds me of the stick-on fascinator of her dating days) .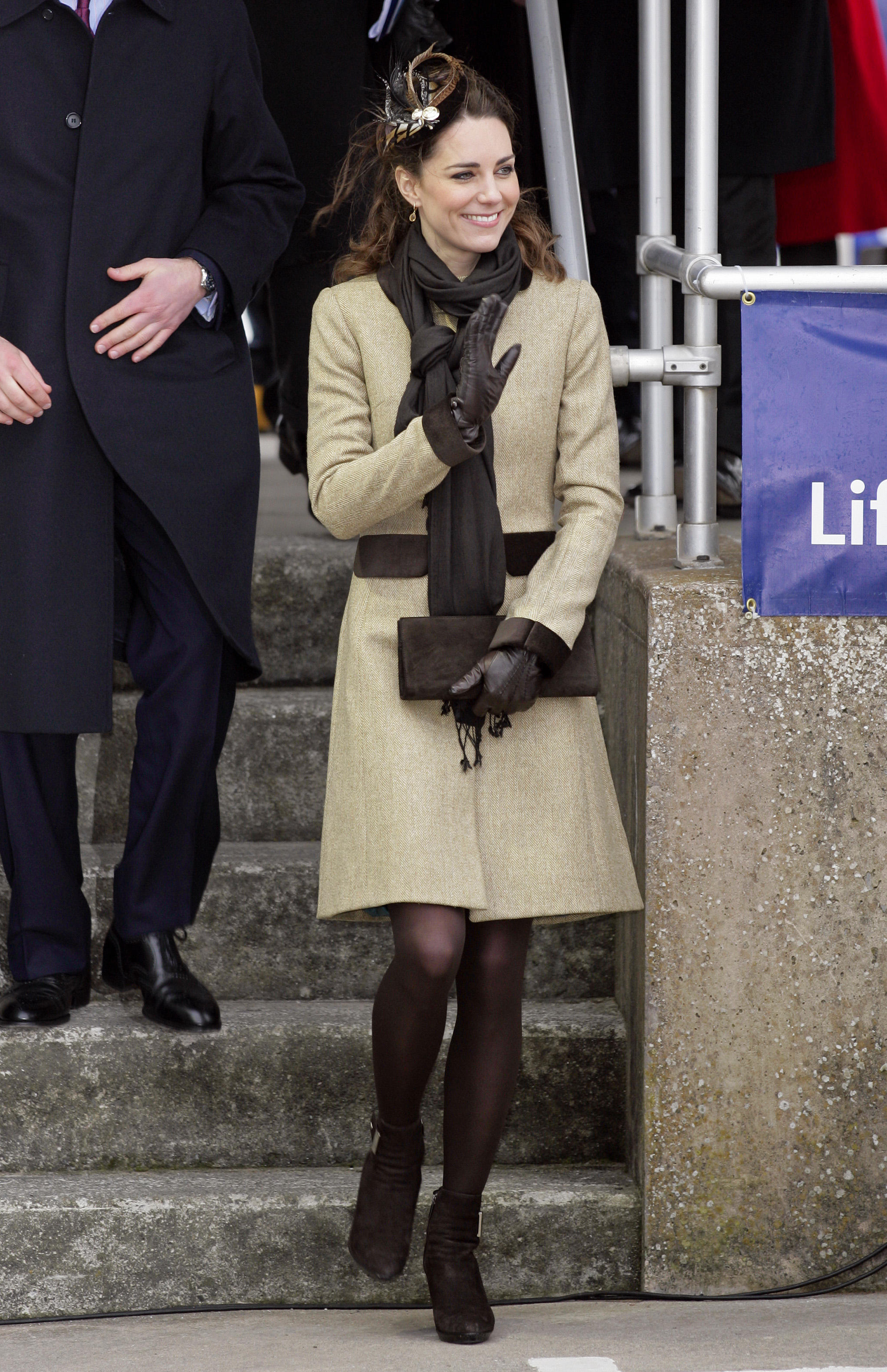 My Daily
This is the site of one of my favorite pictures of her: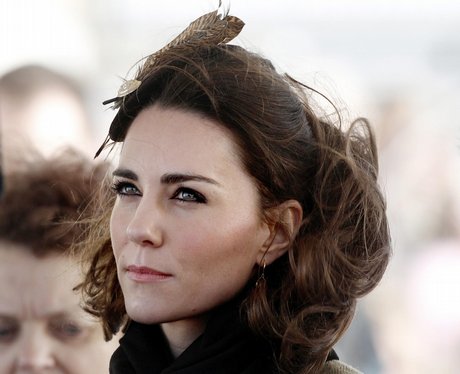 Heart.co.uk
But I think this one takes the cake:
Daily Mirror
For their third engagement, the newly engaged couple went to Belfast, Northern Ireland. They flipped pancakes in the town square (yes, really!), and then watched a play.
EPA/Daily Mail
What Kate Wore
Here is a cute video of them greeting the crowd and flipping pancakes:
Kate was wearing an on trend 650 pound Burberry coat with a skirt detailing. The goal of this visit was to strengthen bonds between Northern Ireland and the rest of the UK. This was Kate's first brush with the complicated world of politics intertwined with the Royal family.
The final of the four engagements before they got married was in Witton Country Park, England.
Ocean RiseBlog
She was wearing a lovely navy Amanda Wakely suit.
They were again greeted with many admiring fans!
Zimbio
We didn't see Kate for quite some time after this, besides the random paparazzi shot. The next photo we got of her was the night before the wedding, before entering the Goring Hotel in Belgravia. This is a Royal hotspot and most of the guests were being housed either here or in the Palace.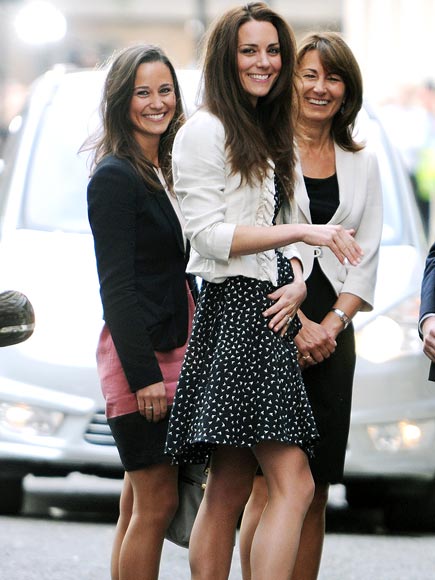 People
Jeff Moore/Sugarslam
As the picture above so aptly shows, the excitement for the wedding was almost unbearable!
As the morning begun, one can only imagine what Kate was thinking. Not only was she getting married, but she was committing herself to a life in the spotlight and a life of working, especially when William became King. We finally got the first glimpses of the dress when she was exiting the hotel for the car. Earlier that morning we saw designer Sarah Burton for Alexander McQueen step out of a car in front of the hotel, sparking a rumor that she is the one who designed the dress (a rumor that turned out to be true!).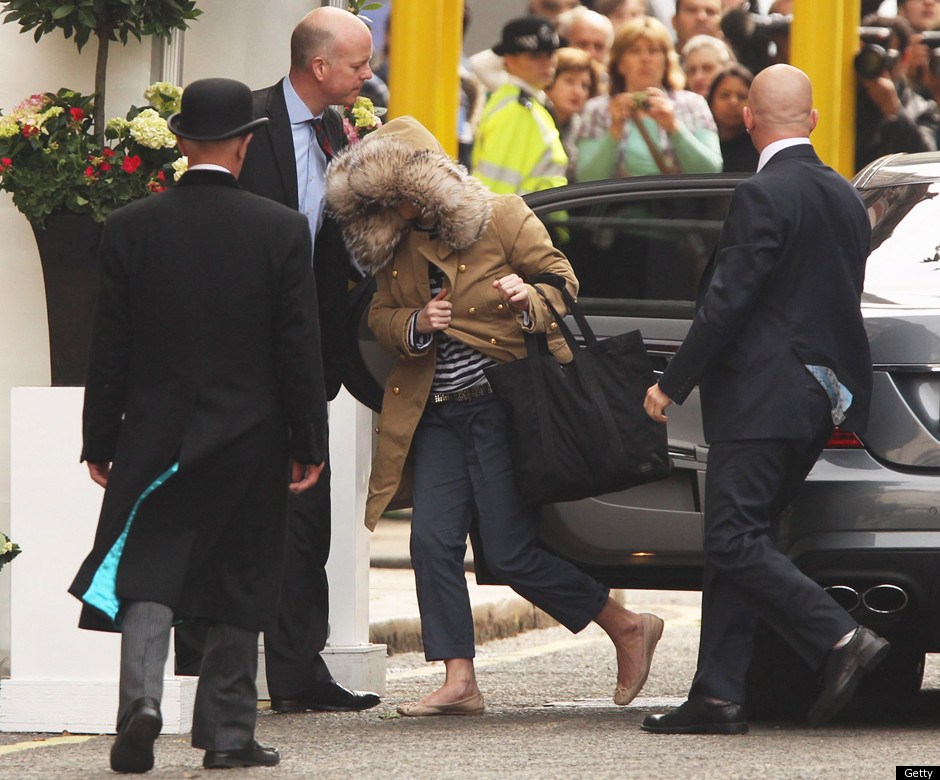 Getty/Huffpost
Kate then exited the hotel and got into the waiting car, much to the excitement of onlookers:
Zimbio
She and her dad Michael were all smiles on the way to Westminster Abbey:
ABC News
This is my personal favorite:
Zimbio
She arrived at Westminster Abbey with sister Pippa ready and waiting to walk down the aisle with her:
Daily Mail/AP
frenzyofnoise.net
busybeeblogger.com
Getty Images/MailOnline
katieandspencer.com
Fun fact: While Kate was walking down the aisle, Harry turned around and whispered to William "Wait till you see her." When Kate finally made her way to William, he told her "You look absolutely beautiful."
katieandspencer.com
Herald Sun
starandstyle.com
Daily Mail/Getty Images
After the vows were exchanged, the newlyweds sat down for a more formal part of the service.
PA/Daily Mail
This picture is so cute. William obviously adores his bride:
katieandspencer.com
The new couple then walked down the aisle:
Telegraph
Zimbio
Zimbio
They paused at the door of Westminster Abbey for the onlookers:
Mirror
Iam Jones/MailOnline
They then got in the waiting horse-drawn carriage to take them to Buckingham Palace: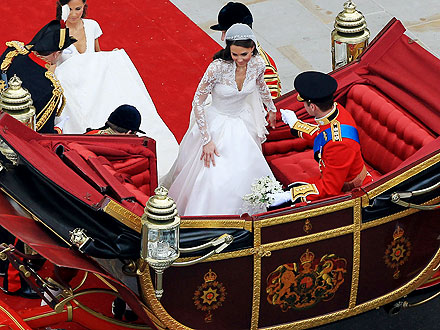 People
JustJared
Zimbio
They then entered Buckingham Palace to greet officials and prep for the balcony appearance:
OneWed
OneWed
Shineyourlight-shineyourlight.blogspot.com
www.news.com.au
Then came the big balcony appearance:
Zimbio
The famous kiss:
Telegraph
AP/Daily Mail
They were gone for a few hours, taking the official wedding photographs:
PA/Hugo Burnard/MailOnline
PA/Hugo Burnard/MailOnline
And my favorite:
Hugo Burnard/MailOnline
Before the wedding reception, the new couple took a short drive in a 1969 Aston Martin of Charles'.
AP/Daily Mail
rbcustoms.wordpress.com
prlog.org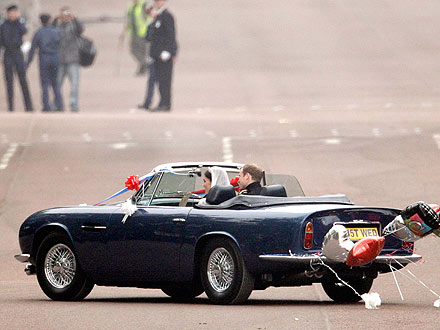 People
Daily Mail
After the drive, they went back to the Palace for a reception (one of three!)
Zimbio
Her reception dress was also designed by Sarah Burton for Alexander McQueen: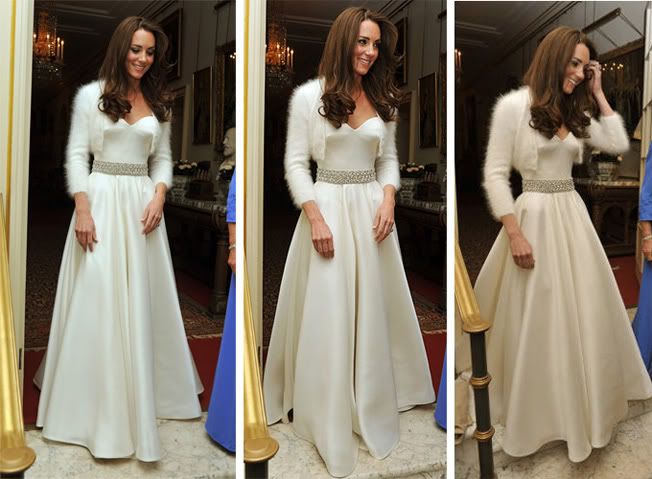 toppledcake.com
JustJared
That is how the couple ended the day. What a wonderful fairytale. Have a wonderful day!